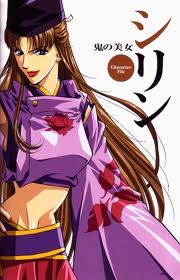 The only female among the surviving members of the Oni Clan, Shirin holds a strong affection for Akuram which will allow her to do pretty much anything he tells her to do. She is very jealous of Akane because of Akuram's interest in her, and on one occasion goes behind Akuram's back and assaults the Miko because of this jealousy. Akuram seems to have no affection for her, discarding her from the clan towards the end, however in the anime conclusion Shirin offers to exchange her life for Akane's in order to be with Akuram in the afterlife. Although this ending only occurred in the anime, not in the manga. Shirin's key power is the ability to use her beauty to seduce and then manipulate the actions of men, and therefore she is angered by Takamichi who refuses to submit to her seduction spell. She and Takamichi maintain a chemistry throughout the story on account of this, with Takamichi once saving her life despite her attempts to kill him. Shirin's physical attacks often involve a rose, whose vines and thorns she can manipulate at will.
Ad blocker interference detected!
Wikia is a free-to-use site that makes money from advertising. We have a modified experience for viewers using ad blockers

Wikia is not accessible if you've made further modifications. Remove the custom ad blocker rule(s) and the page will load as expected.