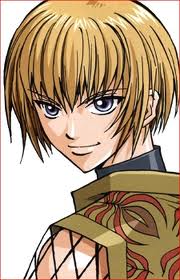 Sefuru is the youngest surviving Oni, probably no more than fourteen or fifteen years old. He is technically half and half, since his mother was a normal resident of Kyou. Sefuru is bitter and hates the people of Kyou because his mother abandoned him based on his appearance when he was just a small child. It was at this time that Akuram took him in and began to train him to use him for his own purpose. For this reason, despite his half blood, Sefuru has been accepted as an Oni by the rest of the clan. However, he has a deep rooted fear of being abandoned and alone again, which often drives him to desperate acts. At one point he befriends Shimon, thinking that he's an Oni in the same situation, though he becomes indignant when he thinks that Shimon has betrayed the Oni by joining up with people in the city and is even more perturbed when he discovers that Shimon is one of the Hachiyou. Despite his aggression, however, Shimon is sure that Sefuru is more hurt than anyone by the encounter, and refuses to bear him a grudge. In the end, Sefuru is shown with Ikutidaru, Seri and their new baby, indicating that his hatred is based in his loneliness, and all he really needed was a proper place to belong. In the manga, which is still ongoing, Sefuru is discarded by Akuram and taken in in his injured state by Inori's sister Seri on Ikutidaru's request.[2]
Ad blocker interference detected!
Wikia is a free-to-use site that makes money from advertising. We have a modified experience for viewers using ad blockers

Wikia is not accessible if you've made further modifications. Remove the custom ad blocker rule(s) and the page will load as expected.