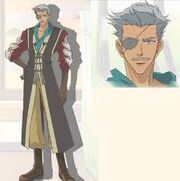 Ikutidaru is Akuram's right hand man and probably the oldest of the surviving oni. Of all of the oni clan he has the greatest sense of conscience, and is often torn between his loyalty to his people and his love for Inori's older sister Seri. In the anime, he once disobeyed Akuram and had his eye removed as punishment for the crime (although in the manga it is not yet explained how he came to lose his eye). Despite the fact he does not always agree with the things Akuram orders, he often carries them out with resolute seriousness, even though at times it makes Kyou's predicament worse. He has a strongly protective - almost paternal - instinct where Sefuru is concerned (although Sefuru is rarely appreciative of that fact). In the ongoing manga, Ikutidaru is currently working with Akane and Yorihisa against Akuram as they try to break the curse Akuram has placed over them. His defection was inspired largely by the way in which Sefuru was injured by Akuram when he was discarded.[1]
Ad blocker interference detected!
Wikia is a free-to-use site that makes money from advertising. We have a modified experience for viewers using ad blockers

Wikia is not accessible if you've made further modifications. Remove the custom ad blocker rule(s) and the page will load as expected.